22 août 2012
3
22
/

08
/

août
/

2012
11:30
TIME TO GO HOME / IL EST TEMPS DE RENTRER A LA MAISON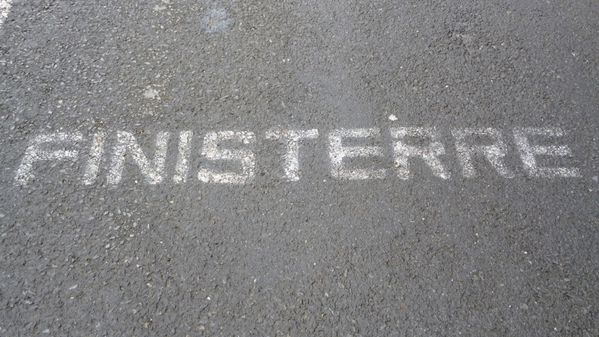 Fog and rain the entire day. Despite this, I was determined to make it to Fisterra and walked a total of 38 kilometers. It was terrible. The rain soaked me straight through and I was unable to take photos of certain places because it was impossible to do so without getting my camera wet.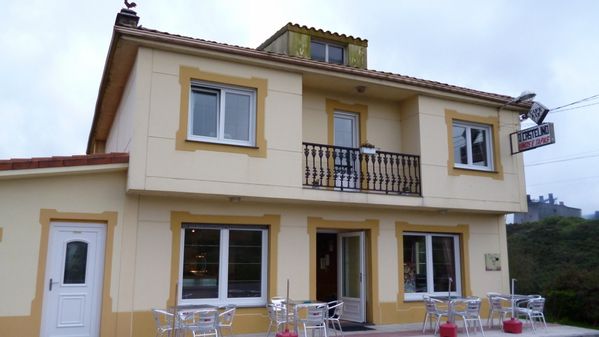 After leaving the albergue in Olveiroa, I had my breakfast and coffee at the last chance saloon, Café O' Castelino, the only place to find food and drink before heading to Fisterra. The woman who runs this place is named Marina and she was very surprised to see me so early in the morning.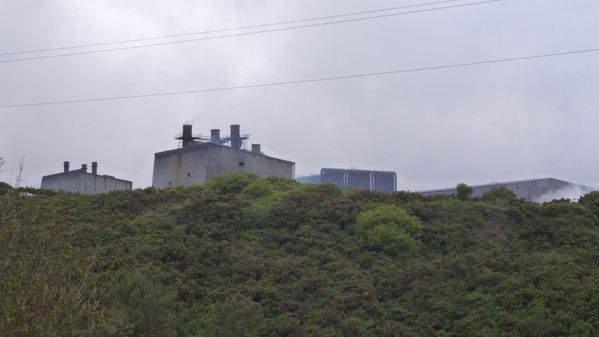 This is a huge factory near the cafe which bellows smoke and fire into the air from its chimneys.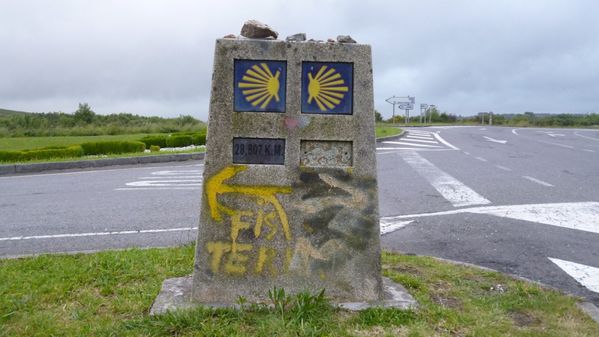 At 07h30 I set off past the marker where I had to choose either to go to Muxía first or Fisterra. I chose the direction of Fisterra and took the paved AC-2302 all the way to Cee. There was NO WAY anyone was going to get me to hike another day along a muddy path...in the fog...in the rain... The road was the best option. I didn't get muddy but I didn't stay dry either.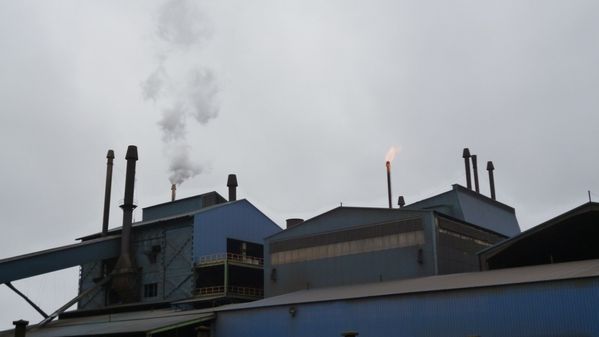 In Cee, I took a photo of another filthy factory spewing its pollution into the air--buildings and homes nearby were covered in black soot. Because of the rain, the ONLY thing of any interest I could visit in Cee was the Iglesia de Nosa Señora da Xunqueira.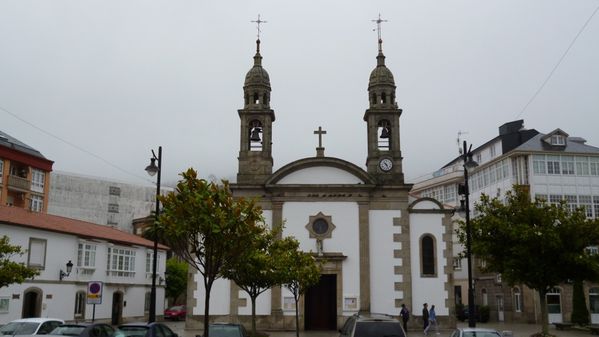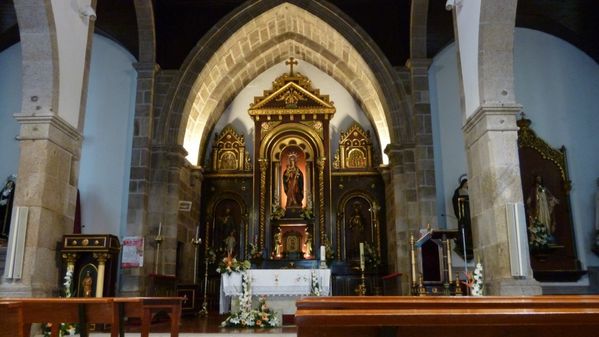 It is a 15th century church designed by the same man who served as architect for the clock tower in Santiago, Domingo de Andrade. By this time, I was so tired and hungry that I thought of taking a break and looked for an albergue or a hotel to stay in until the weather improved. Somehow, I kept going and ignored all the advertising signs for places to stay. I ended up getting lost again as well. I wanted to take the road all the way to Fisterra but I ended up walking uphill along a muddy path past the San Roque Albergue which was closed. Had it been open, I would have probably checked in. I was looking forward to walking along the beach in Fisterra called the Playa Langosteira and placing my feet in the water as some symbolic gesture of completion. If the weather was nice, I was even thinking about taking a swim. No such luck. My feet were already soaking wet and there was no sunshine. There's nothing tempting about a beach during a downpour so I followed the path that winds its way behind the dunes all the way to the center of Fisterra.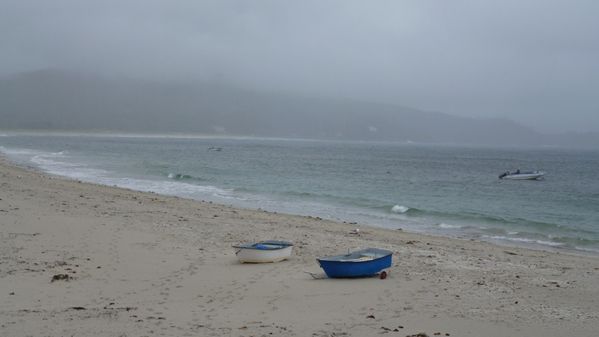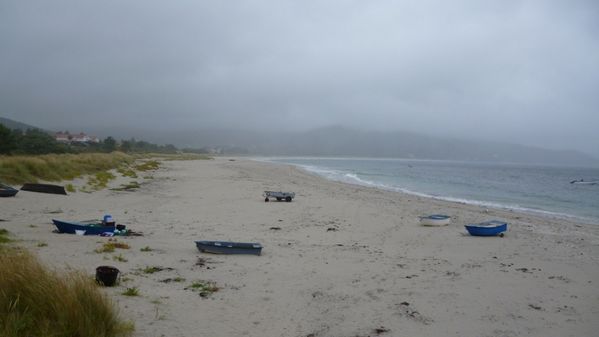 I only got two shots of the beach before continuing my journey into town.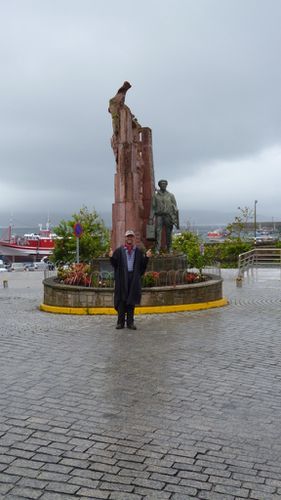 Eventually, I came to the Emigrant monument across from the town hall and a cozy, warm and inviting restaurant called Tearron where I stopped and had lunch--eggs and ham and lentil soup. I wanted to get my certificate of completion, the Fisterana but I had to wait until 14h00 when the albergue would open up for business. Thank goodness I didn't have to stay there in order to get my piece of paper. The Fisterana has my name and the date written in Galego. Once I tucked my certificate into the tube with my Compostela inside of my backpack I decided to walk the remaining 3 kilometers to the zero kilometer marker next to the lighthouse.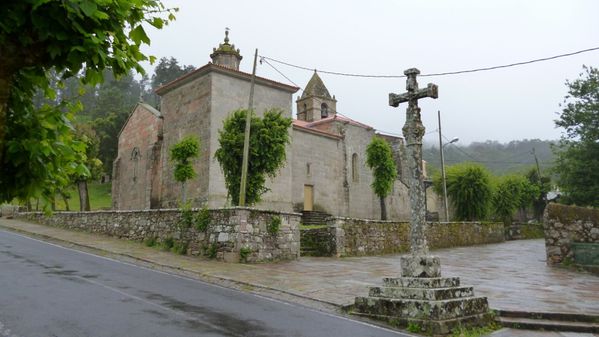 This is the church of Nosa Señora das Areas (late 12th century) which houses the image of the the Holy Christ of Fisterra whose beard grows and wounds bleed. I wanted to see that but the church was closed.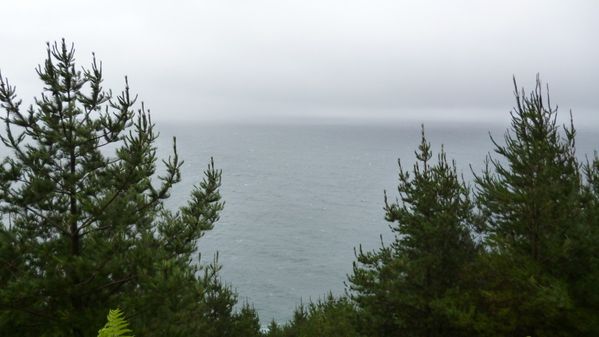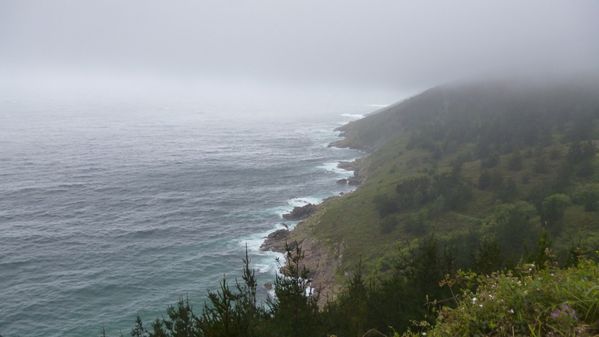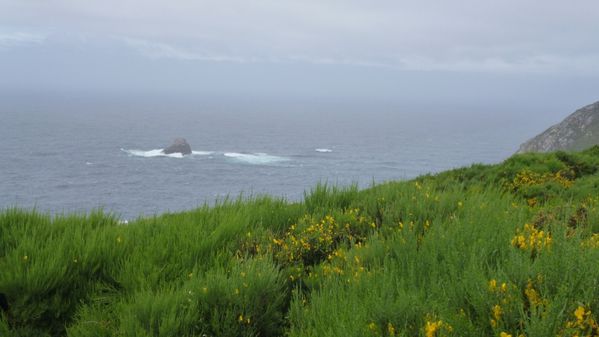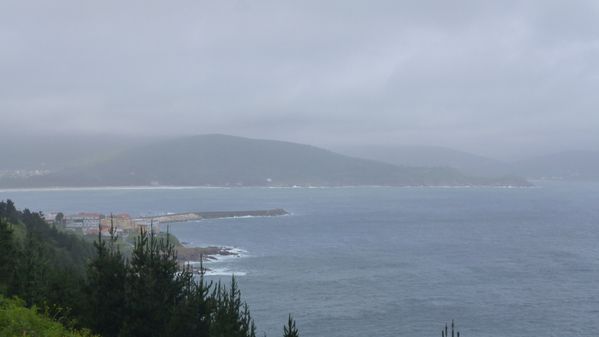 The views of the sea along the cliff were not very good due to all of the fog. At least it stopped raining for a little while and I was able to take off my poncho.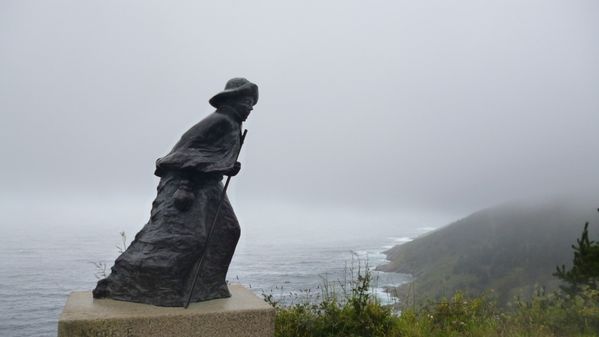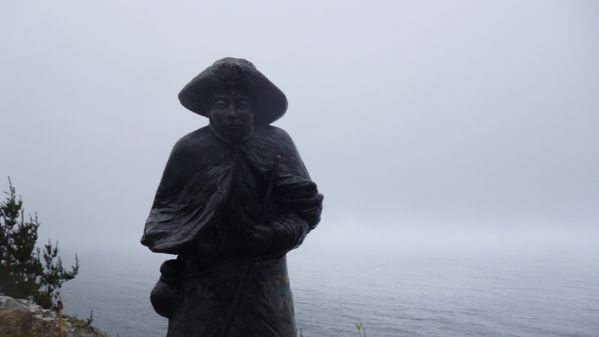 It was here by the statue of the pilgrim looking out to sea that I knew I needed to go home. I was not going to suffer any longer by walking in wet shoes to Muxía. It hit me like a ton of bricks. I'm certain that it was God telling me that I could lay my burden down and go home.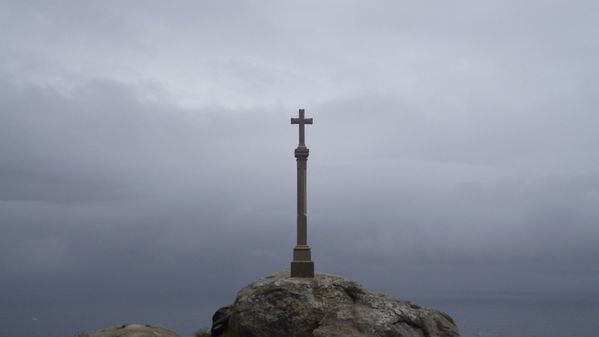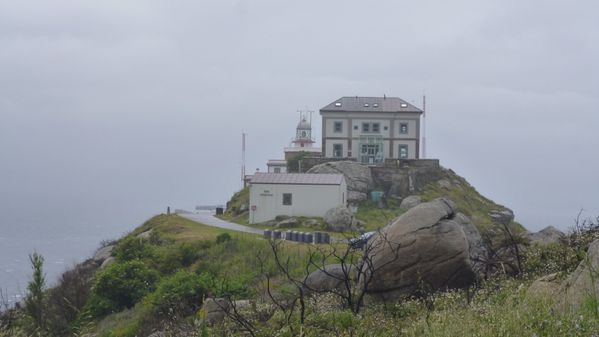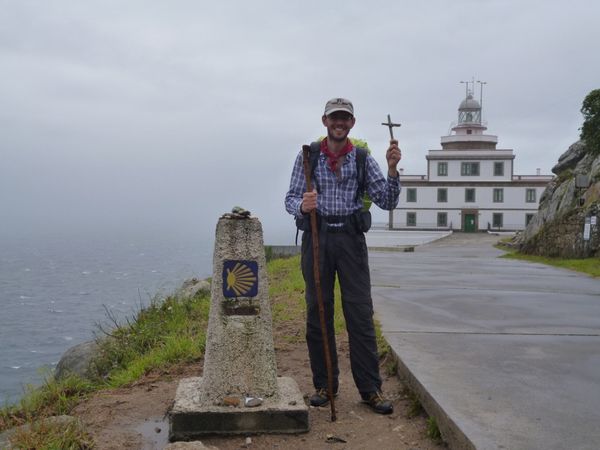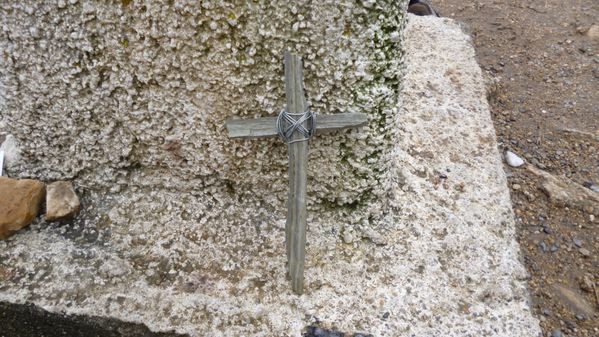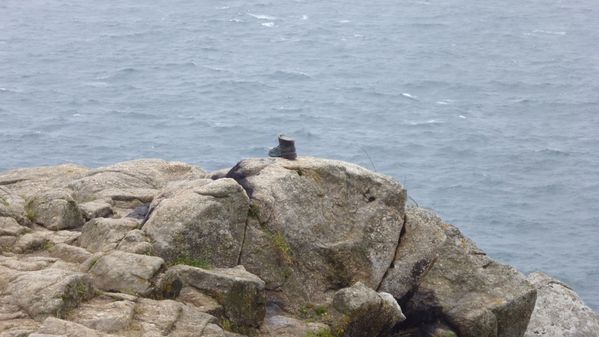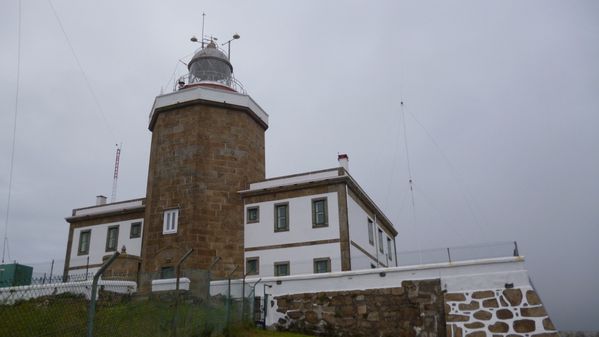 I opened my backpack and took out the small cross that I made using the two stones I brought with me from the Cruz de Ferro. Thanking Him for his protection and guidance I placed the small cross at the base of the distance marker beside the lighthouse. It was finished. Time to go home.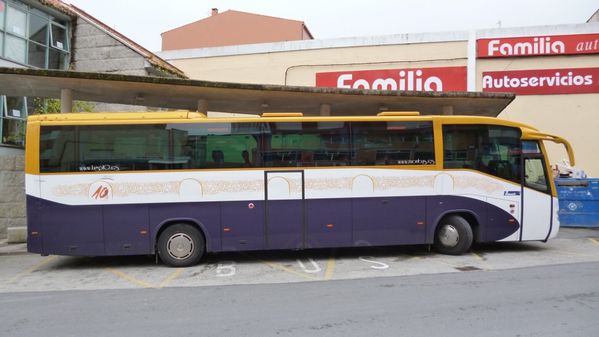 I took a bus from Fisterra back to Santiago and checked myself into the Seminario Menor for one more night. I had my own room again but I was just too tired to leave it and find something to eat. The three hour bus ride took too much out of me and all I wanted to do was sleep. I didn't even do my laundry. My shoes were soaking wet and my clothes smelled terrible.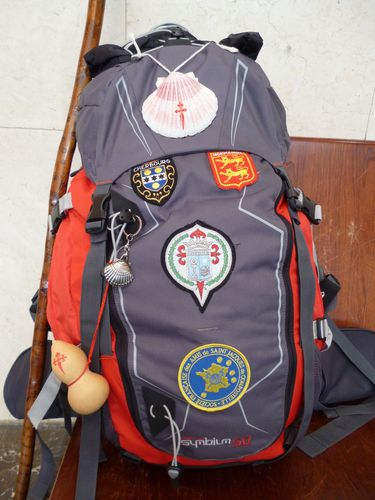 Sleep came immediately and in the morning I put on my sandals, packed my bag and headed to the Santiago bus station--it was the morning of June 16th.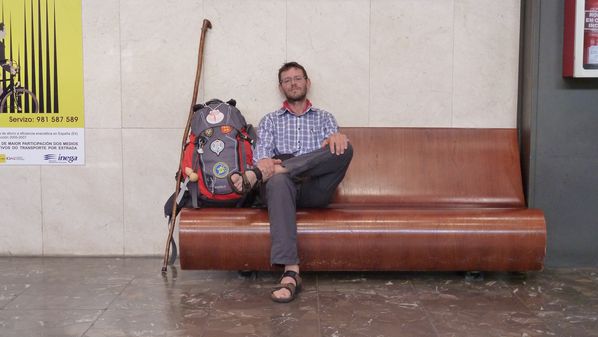 My journey by foot was over but the bus ride all the way to Paris was just beginning. The ALSA bus service was crowded, smelly, noisy and uncomfortable. Now, multiply that by ten and you will understand how terrible it got when I had to change my bus at the Area Suco station outside of Burgos.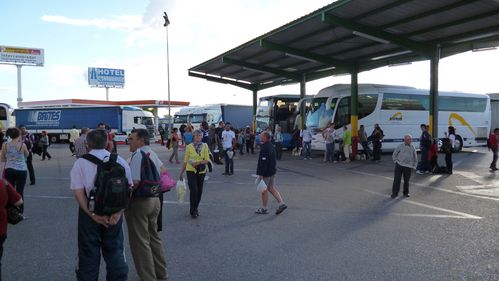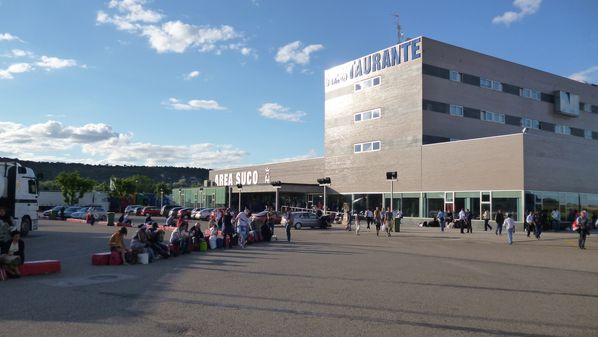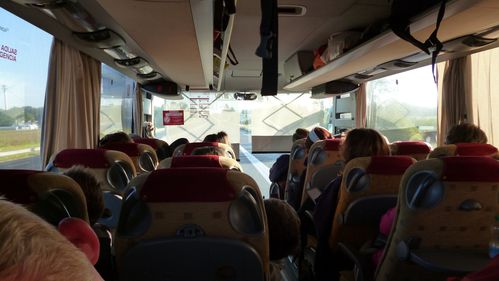 Despite not showering in three days, I was exceptionally clean compared to the others on my bus. If I had known this ahead of time, I would have bought a plane ticket instead or a gas mask to filter the fumes at the very least. Although I was uncomfortable 100 percent of the time, I did enjoy watching the Spanish countryside fly past me.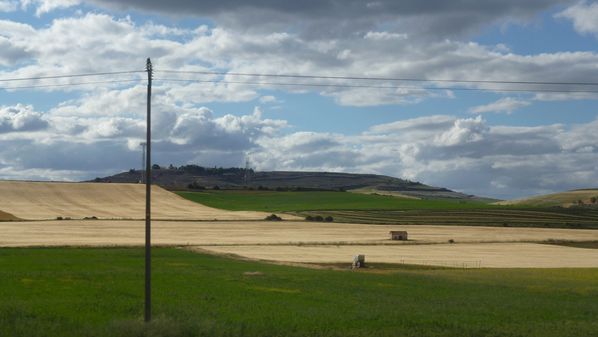 Hard to believe I was walking these same fields a month ago when they were green and not brown. By the time I reached Paris on the 17th, I had spent nearly 24 hours on a bus, in a chair not even big enough for a small child.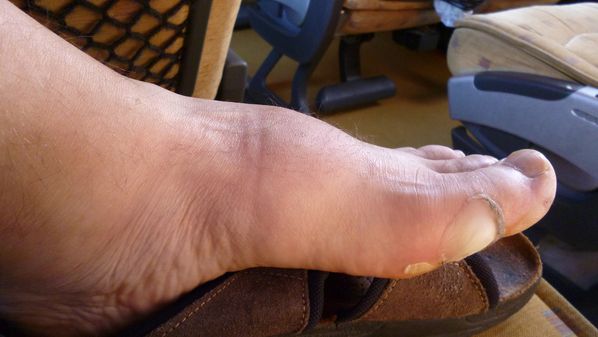 My feet swelled up to a frightening size. In Paris, I went directly to the Gare St-Lazare train station and bought a first class ticket back to Cherbourg. I was so glad to be home!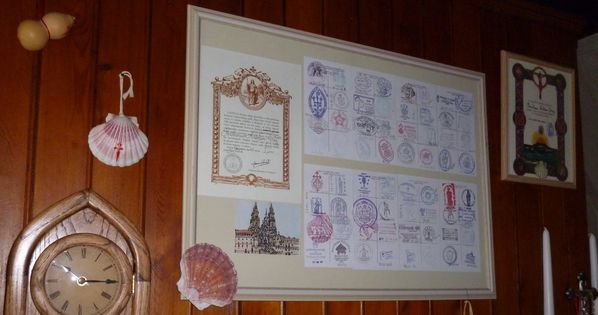 My Compostela and Fisterana now hang on the wall above the fireplace in my house along with a copy of my pilgrim's passport. My Camino was a success and I hope to do it again one day. Who knows?